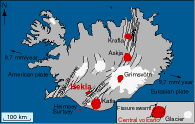 Simple volcanological map of Iceland showing Iceland's active volcanic rift-zones, related fissure systems and some important volcanoes.
Iceland's most famous and historically most active volcano can best be described as an intermediate volcanic form between a crater row and a stratovolcano. It is located west of Iceland's SE volcanic rift-zone. Hekla erupts a magma type that is unique for Iceland, intermediate between highly silicic and andesitic composition. From surface deformation studies after the 1980 eruption, it has been concluded that its magma chamber is located around 8 km below the summit. Since the Middle Ages, Hekla's has been one of the most active volcanoes of the world, with recorded major eruptions in 1104, 1158, 1206, 1222, 1300, 1341, 1389, 1510, 1597, 1636, 1693, 1766, 1845, 1947, 1970, 1980, 1991 and 2000. Typically, at least the beginning parts of Hekla's eruptions are largely explosive. Some of these eruptions caused great damage, especially the eruptions in 1510, 1693 and 1766. Note that since 1970 the repose interval appears to have changed, becoming much shorter and quite regular, around 10 years, with respect to an approximately 50 years rhythm during the preceding centuries. Hekla has also had a number of large prehistoric but postglacial eruptions, producing vast amounts of tephra which repeatedly covered up to two thirds of the country with light-coloured tephra (i.e. 7000 B.P., 4500 B.P., 2900 B.P., A.D. 1104 and A.D. 1158). The total volume of lava produced by Hekla in historical times is about 8 km3, and the total volume of tephra about 7 km3.
Mainly summarized from information from the Nordic Volcanological Institute.